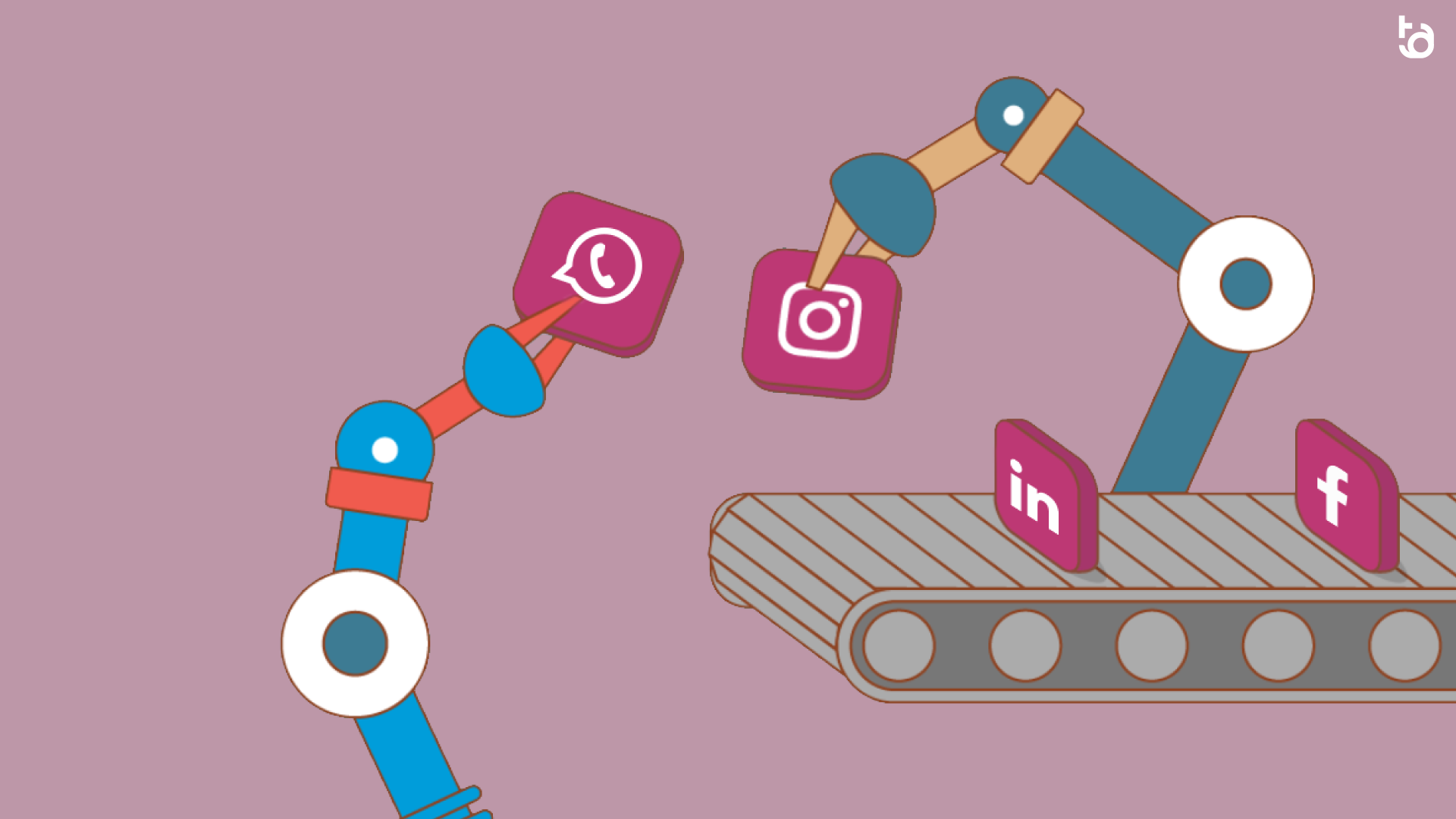 We see automation everywhere now. While some dread the trend many have now understood the merits of automation. Wherever there is tedium, automation can be used to simplify things. So, what about social media automation? Do you think it is worth considering? We'll tell you! 
But first, what is social media automation?
Social media automation is the process of using tools to automate the social media activities of a business. The size of the business and the industry to which it belongs does not matter here. To track interactions, boost engagement, schedule posts and perform a variety of other social media activities if you use automation tools, then it is social media automation. 
Social media automation is a small portion of marketing automation. Marketing automation consists of a comprehensive automation platform or software that takes care of the various marketing channels and campaigns. Social media automation, on the other hand, focuses merely on the automation of social media related tasks. Social media automation tools might not always support automation of marketing emails or digital banner ads and other marketing tools. 
4 social media automation benefits every small business should know about 
Like every other infrastructure change, social media automation incurs additional cost. It might therefore be a tough choice especially when you are working with a tight budget. So, do you think social media automation is a worthy investment? Here are some benefits you should know about. 
1. Keep up with the growing demand 
Creating a social media page is easy. Therefore, you should know that the competition is tough out there. Your posts on social media are competing against posts from competitors, brands in other industries and markets as well as posts from individual content creators. To cut through the noise and to ensure that the social media algorithms do not forget you, you need to be consistent. You need to constantly register your presence through regular posts as well as ephemeral content like Stories. 
Coming up with Story and post ideas is one thing. But finding time to post them regularly is another. Do you think keeping up with the growing demand and posting several times a day or several times a week feels like a tedious job? Then social media automation might be just what you need. 
2. Save time and energy too 
Keeping track of your social media posts, the engagement rate and customer queries on social media takes a lot of time. But they are essential to meet your social media objectives. So, one way to tackle this will be through social media automation. 
With reliable social media automation tools you will be able to boost customer engagement on social media, obtain fresh leads as well as run your business all without feeling the burden of it. By scheduling your posts, you do not have to worry about not being able to log in to your account and post every single day. 
3. Globalizing your brand becomes so much simpler 
When you have to reach out to audience groups situated in different parts of the world, social media automation might be your key to a more practical approach. With automation, you can be sure that responses to customers who are online at different time zones will be available instantly, even if your customer support team is not online round-the-clock. 
For example, on the Instagram analytics page, you will see an overview of your audience. From the basic demographics like gender, age and geographic locations to more specific ones like the times when these audiences are active, you will be able to obtain a lot of information. Among them, the time of availability is one crucial aspect to consider. Posting when your audience is most active ensures that they do not miss your post. If these are inconvenient times for you due to time zone differences, a social media automation tool can take over. 
4. Keep track of multiple social media platforms 
Every social media platform has its personality. And each comes in handy for a different purpose. For example, you will find LinkedIn to be a more suitable space for B2B businesses. Whereas, if you have to target diverse demographics for a B2C business, Instagram and Facebook are pretty effective. Either way, most businesses will have to be active on more than one social media platform in order to make a difference. Posting on multiple platforms and switching between apps to track the performance of a post can be time-consuming. With efficient social media automation tools you will be able to bring all your data to one place. Managing multiple social media platforms becomes simpler. 
So, if you are still contemplating the need for social media automation, you should understand that it is a step that can drastically strengthen your digital presence. It can change the way you communicate with your customers. And with intuitive social media automation you can also change the way customers look at your brand.